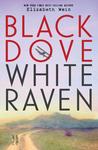 Black Dove, White Raven
by
Elizabeth Wein
My rating:
3 of 5 stars
You all know that I was a huge
Code Name Verity
fan. Huge. I was on the Printz committee that year.
And so I went into this with high hopes, but, sigh. I love the storyline--anything with female pilots and history is cool. Even better is that this mainly takes place in Ethiopia during WWII, which is awesome because I knew nothing about the historical significance of European countries fighting it out there before the war. But, wow, I had to force myself to finish this. The middle and end of the book lasted forever, and I just wasn't satisfied. I never connected to the two main characters--Teo or Em. In fact, their voices were so much alike that I had a difficult time distinguishing between their writing, which shouldn't have happened. Yes, they were raised together, but they should have had very distinct voices. Em talked about making coffee for most of the book, dang it. I know Em was forced into the whole subordinate female in Africa thing, but her mom didn't seem to be raising her that way.
Sigh. I will keep reading Wein's books because I loved
Rose Under Fire
and
Code Name Verity
. I just hope I get more character attachment and less history next time. She's one of the few authors who has made me cry while reading and I didn't get anywhere close to those kind of "feels" while reading this one. :)
View all my reviews