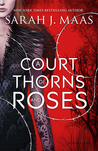 A Court of Thorns and Roses
by
Sarah J. Maas
My rating:
4 of 5 stars
It's been a long time since I've read a decent fairy book for the masses. And this is it!
Nineteen-year-old Fayre's family is starving. She does what she can for them--hunting in the forest around their home. But when she kills a wolf and skins it to resell its pelt in the marketplace, she discovers that the wolf was actually a fairie. For retribution, she is ordered to live in the faerie land for the rest of her life.
And so begins her acclimation to living with Tamlin and Lucien at a beautiful High Lord's mansion in fairy land. I gotta admit, I wouldn't mind being kidnapped by Tamlin--he's a hottie. And, of course, when you're hundreds of years old, you become really good in bed. This book has some of the best sex scenes I've read in awhile!
A mere human ends up being instrumental in saving the faerie lands from an evil queen, and I was surprised that the book didn't have a huge cliffhanger ending. This book is by the author of the
Throne of Glass
series--great YA fantasy reads.
View all my reviews