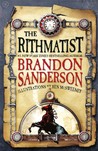 The Rithmatist
by
Brandon Sanderson
My rating:
5 of 5 stars
I love reading really great fantasy that is perfect for adults and children of all ages. This is one!
Joel wants to a a Rithmatist, a chosen person who is trained in an art of fighting that involves chalk lines on the ground that come alive and attack people. He's at one of the eight schools in the United Isles, but he isn't one of the lucky ones who is chosen to be special. His mother cleans at the school, and, even though he is bright, he barely passes most of his classes. A special summer class with a disgraced Rithmatist teacher, leads him to help a young female Rithmatist who is struggling. When young Rithmatists start to get kidnapped, they must solve the mystery and find out who is trying to destroy their way of life.
The best thing about this book is the readability--I was 100 pages in before I even realized it. Sanderson (
Steelheart
,
Warbreaker
) writes like it's easy--the worldbuilding is superb, and I can't wait to get a hold of Book #2.
View all my reviews