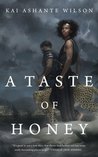 A Taste of Honey
by
Kai Ashante Wilson
My rating:
1 of 5 stars
I received a copy of this book from the publisher in a Goodreads giveaway.
I love the concept--gay romance in a fantasy world, but the writing style is just not for me. Flowery and overwritten at times, and then abruptly the opposite. I stopped on page 53, a third of the way through the small novella.
Sentences like this don't appeal to me: "Ah, this was why his wayward gaze alit so often on whom it shouldn't, going back to peek howevermuch snatched away: those taut bellies and hard thighs of men heroically scrawled in scars."
View all my reviews