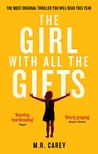 The Girl with All the Gifts
by
M.R. Carey
My rating:
4 of 5 stars
Once again, it's the end of the world. But, ahh, man, this one pulls at the heartstrings.
Melanie is a child at a school. She's strapped into a chair every day by security guards, and is taught things like Greek myths and the Periodic Table. Eventually she learns why she's strapped into a chair and, whoa, prepare to keep reading the book until you're finished!
This is a thrill ride--nonstop action for the last 3/4 of the book, and the characters make it heart-wrenching. This kind of character development doesn't usually happen in an apocalyptic novel, so it was a refreshing read. I'm impressed--looking forward to the next one by this author.
And I blame the bags under my eyes today on this novel--I had to finish it last night once I had started it.
View all my reviews